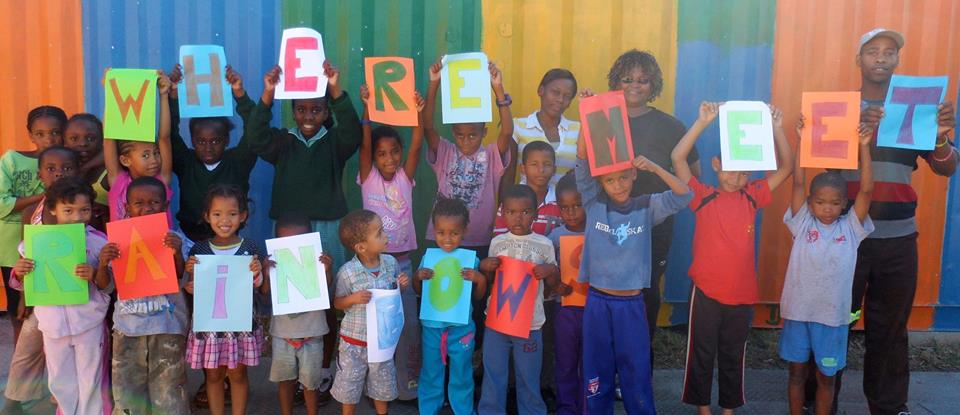 Since 2008, Where Rainbows Meet has been making an important contribution to combating unemployment, poverty, crime and alcohol and drug abuse in one of Cape Town's oldest informal settlements. The facility offers various training and income-generating opportunities as well as social services such as childcare, individual psychosocial counseling, self-help groups and a soup kitchen. These include a daycare center and soup kitchen, income-generating projects such as a sewing workshop and organic vegetable gardening, and recreational programs for youth such as soccer and dancing. During the Covid-19 pandemic, Where Rainbows Meet provided a hot meal to more than twice as many people. The lines outside the soup kitchen are still long nearly 3 months of all Covid-19-related protective measures.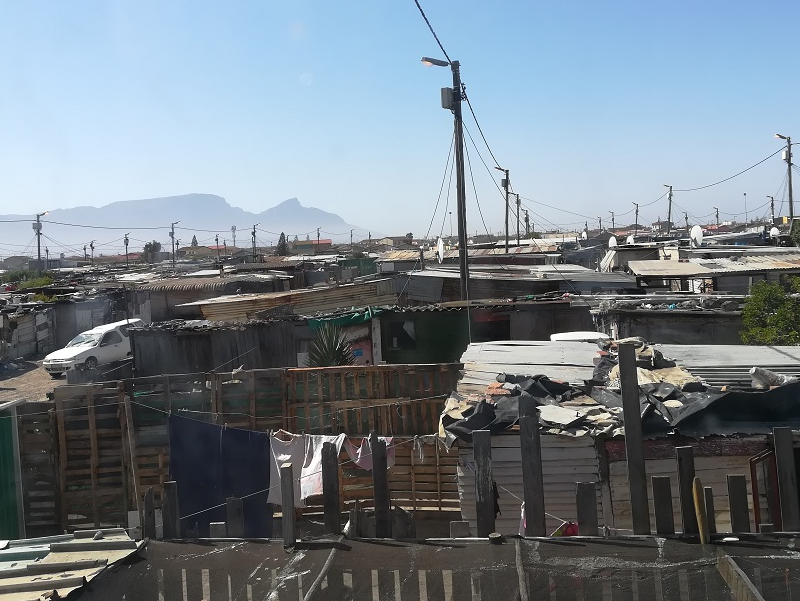 Aims
Poverty reduction and violence prevention
Target group
Women, men, youth and children
Location
Vrygrond – informal settlement in Cape Town
Soup kitchen, first aid for victims of violence, psychosocial counseling, training and educational programs for youth and adults, vegetable garden and sewing workshop.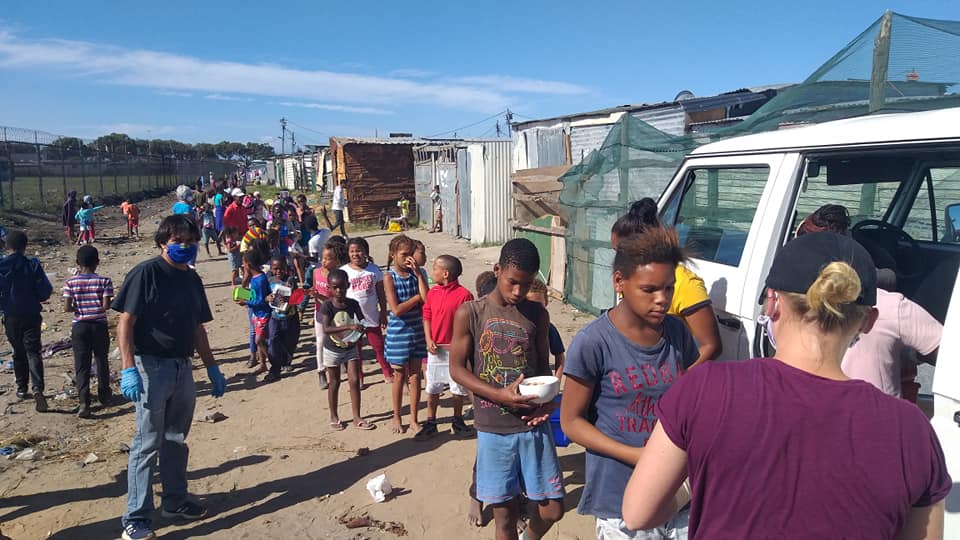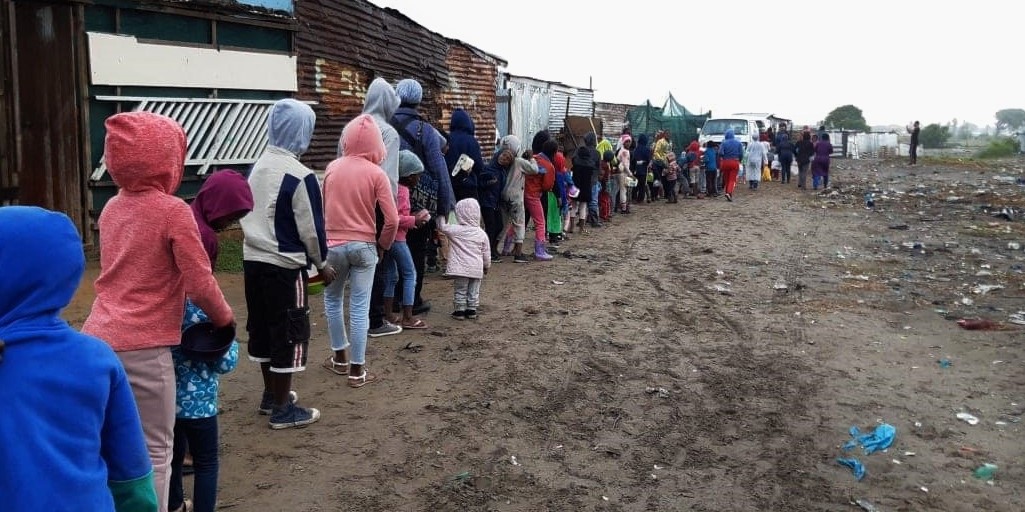 What is the money needed for
As part of our campaign for Where Rainbows Meet, we are collecting for the soup kitchen that provides a hot meal to about 1000 people each day.
Despite extensive housing programs, Cape Town's informal settlements continue to grow rapidly. Vrygrond's population has doubled in the last 10 years – around 100,000 people live here today. The reasons for this rapid growth are primarily rural exodus. Rural areas in South Africa offer few income and education opportunities in rural areas, and the hope of a better life is driving young people in particular to the cities. Informal settlements like Vrygrond are usually their first place of refuge. Here they can build their own hut, but they have neither water supply nor toilet, nor access to jobs and training opportunities. As in most informal settlements, life is defined by the daily struggle against prevailing unemployment, violence, hunger, and alcohol and drug abuse. The Covid-19 pandemic has exacerbated the situation. From a medical point of view, the pandemic has been quite mild in South Africa, but the economic consequences have been all the worse: measures to contain the pandemic, such as the closure of restaurants and cafes, hairdressers, theaters, cinemas, concerts, and, of course, the international travel bans that have led to the abandonment of many guesthouses and providers of tours and tourist activities, have also caused unemployment to rise rapidly. South Africa, however, is not strong enough compared to other countries such as Germany to provide comprehensive support to businesses or individuals through compensation payments and incentive packages. Even though the Covid-19 situation in South Africa has been easing for some time, the economic situation in South Africa is far from recovering -the number of international visitors is only 50% compared to the years before Covid. Where Rainbows Meet continues to experience a rush of needy people in the informal settlement of Vrygrond who have lost their jobs due to the Corona crisis. In addition, fundraising activities have been limited in times of Corona, with, for example, no fundraising events being held, or project funders from abroad supporting Covid-19 emergency programs in their own countries.

Covid-19 goes – hunger stays. Support the Where Rainbows Meet soup kitchen or its training programs that help promote education and employment in Vrygrond.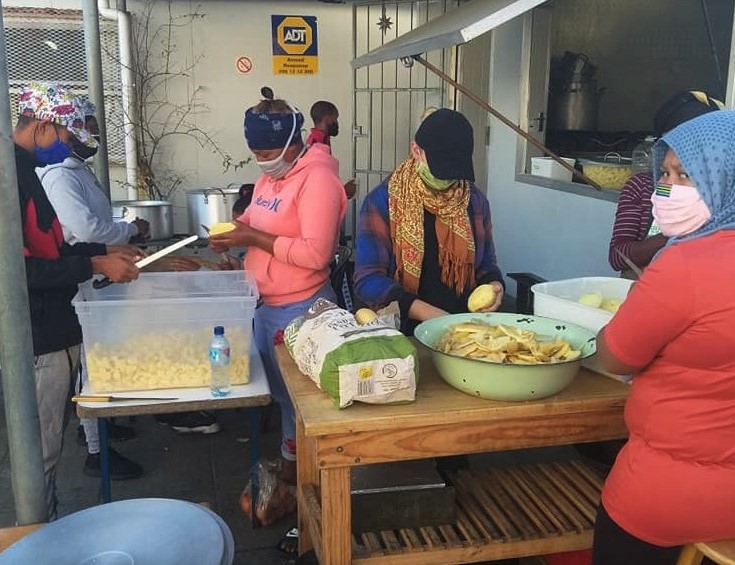 support where rainbows meet with your donation
how does your donation help?
A hot meal costs ZAR 35,- (about € 2 )With a donation of € 10 you can ensure that a family of 5 can enjoy a hot meal a day.
Learn more about where rainbows meet
Would you like to learn ore about our projects, campaigns and ways of how you can support them?